Read Avery Gilbert's FirstNerve on Substack
Now available: The Nick Zollicker Stories
Avery Talks about Nick Zollicker with Culture File's Luke Clancy
Blogging on the science and culture of smell at FirstNerve.com

What the Nose Knows: The Science of Scent in Everyday Life


A finalist for the Los Angeles Times Book Prize in Science & Technology, and short listed for the Royal Society Science Book Prize, What the Nose Knows has garnered high praise from critics and bloggers alike. Newsweek called it "an entertaining romp through the science of smell," and artisan perfumer Anya McCoy said "it is written in a breezy, unaffected style . . . crackling with humor and intellect."
What the Nose Knows is available on Kindle, as a download from Audible.com, and in a new paperback edition.
The book as been translated into Japanese, Spanish, Korean, Polish, Turkish, and Chinese (complex and simplified). An Indonesian translation is in the works for 2017.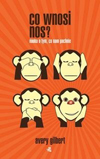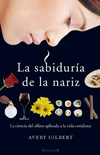 How My Book Came to Be: A Personal Note
As a working scientist I've written a couple of dozen scientific papers, contributed chapters to various edited volumes, and published a few book reviews. It was one of the latter--a review of Chandler Burr's "The Emperor of Scent"--that set me on the path to my own book, "What the Nose Knows."
I was the only reviewer to give "Emperor" a big thumbs down. (I was also the only scientist to review it; the Washington Post, for example, assigned it to their beauty editor.) My notice appeared in Nature Neuroscience shortly

before the AChemS conference, a big annual meeting of smell and taste researchers in Sarasota, Florida. Book reviews rarely attract attention in the scientific world--you're lucky if your mom reads it. Yet colleague after colleague at AChemS came up to congratulate me and say how much they liked the review. More than a few suggested I should write my own book.
The more I thought about it, the more I liked the idea. I enjoy teaching people about the science of smell, and a book for the scent-curious public would be fun to write. And so began "What the Nose Knows."
In researching my book I delved deep into popular culture. I wanted to connect modern smell science to things that regular people care about. Above all I wanted fresh material--damned if I was going to recycle the "what Napolean wrote to Josephine" story that seems to appear in every book on smell. And I'm proud to say, I succeeded. In my book you'll find O.J. Simpson, Richard Wagner, Kurt Cobain, Emily Dickinson, and Playboy Bunny Izabella St. James, but you will not find Napoleon. Tant pis.