Speaking of Smell
Dr. Gilbert speaks frequently to a diverse array of audiences. He conveys the basic facts about the nose, brain, and odor perception, and describes the latest scientific findings in a way that is engaging and easy-going. He tailors his topics to the interests and background of the audience.
Would your campus or organization like to hear Avery Gilbert speak? Drop him a line. You can download a copy of Dr. Gilbert's current speaker profile here.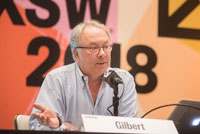 Avery Gilbert's recent speaking engagements include:
March 2021
Presented "Cannabis terpenes: Cultivar markers, aroma sources, or active ingredients?" at CANN: Cannabis Chemistry subdivision of the American Chemical Society (virtual).
August 2020
Presented "The aroma of Cannabis: Chemical, commercial, and legal aspects" at the Institute for Cannabis Research Conference (virtual).
July 2020
Panel speaker "Quantitative Sensory Analysis of Cannabis-based Products" at Institute of Food Technologists Annual Meeting (virtual).
August 2019
Presented Field of Dreams: From Hopyard to Grow House at the Brewers Summit of the Anheuser-Busch Brewers Collective in Chicago, IL.
April 2019
Panel speaker at the New Frontiers in Cannabis Symposium, held as part of the American Chemical Society's annual meeting in Orlando, Florida.
October 2018
Keynote speaker: "The budender as psychophysicist: Fragrance and flavor in the emerging market for legal Cannabis," 3rd International Workshop on Multisensory Approaches to Human-Food Interaction, in Boulder, CO.
March 2018
"Binding Emotion & Memory: Science, Story & Scent," an IEEE-sponsored panel at the South by Southwest conference in Austin, TX.
April 2017
"The Science of Smell: Understanding Human Odor Perception," part of the on-going Science on Tap series in his hometown of Fort Collins, Colorado. The event was held at The Wolverine Farm Letterpress & Publick House.
April 2017
"The Human Sense of Smell," an event sponsored by Columbia University's Presidential Scholars in Society and Neuroscience program and moderated by Ann-Sophie Barwich. Other speakers included philosophers Barry Smith and Clare Batty, and neuroscientist Don Wilson. The public event was held at The Italian Academy at Columbia University, in New York.
May 2016
"The Sensory Craft Movement" and "The Science of Body Odor" were Gilbert's topics at a panel moderated by the Institute for Art and Olfaction's Saski Wilson-Brown. The event was part of the AIX Scent Fair at the Hammer Museum in Los Angeles, CA.
March 2016
"The Golden Age of Fragrance and How We Got Here," a presentation to a joint meeting of the New York Society of Cosmetic Chemists and the American Society of Perfumers. The event was held at the Chart House in Weehawken, NJ.