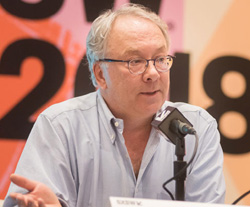 Image by Jessica Klima
Dr. Avery Gilbert is a smell scientist and author.
He has conducted research on human odor perception in academic laboratories and in the R&D divisions of multinational perfume companies. His consulting firm Synesthetics, Inc. helps companies design scented consumer products. He is the founder of Headspace Sensory LLC, a startup company that is quantifying the aroma profiles of cannabis and hemp.
Gilbert's first book, What the Nose Knows: The Science of Scent in Everyday Life, is a fast-paced tour of the latest discoveries and how they challenge long-held beliefs about the sense of smell. It was a finalist for the Los Angeles Times Book Prize in Science & Technology, and was shortlisted for the Royal Society Prize for Science Books. It's available on Kindle and Audible Audio from Amazon.com.
Following the success of What the Nose Knows, Gilbert published the Nick Zollicker stories—his first works of fiction.These richly detailed stories draw on Gilbert's personal experience in the worlds of commercial perfumery and academic research. They feature scent expert Nick Zollicker who runs a secretive research institute in California. The first two stories are An Imperfect Mimic and Smothering the Savage.